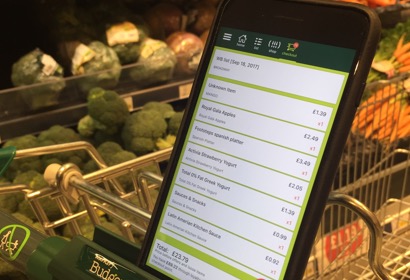 Ubamarket takes a look at how behavioural psychology can be used to improve supermarkets
The weekly food shop might bring to mind plastic carrier bags left at home, carpark arguments and families traipsing through the aisles looking for that one extra ingredient. Understanding our relationship with supermarkets starts with addressing the reasons why this essential part of life can often feel like a chore.
The latest consumer findings from the Office of National Statistics confirm that year-on-year, more and more shoppers turn to the internet to make their purchases; a record 18.2% of all shopping in Britain was done online in July 2018. However, this percentage accounts for all shopping and online supermarket shopping has a considerably lower market share. This leaves a considerably higher percentage of people preferring to physically go to shops, and place items in a real-life basket.
Our love of in-store supermarket shopping has influenced a surge in consumer-orientated TV programming, such as Shop Well for Less and Eat, Shop, Save. These shows attempt to create a nation of savvy-shoppers, educating people on the tricks of the trade, how shops will get you to spend more, should be creating an army of super-shoppers.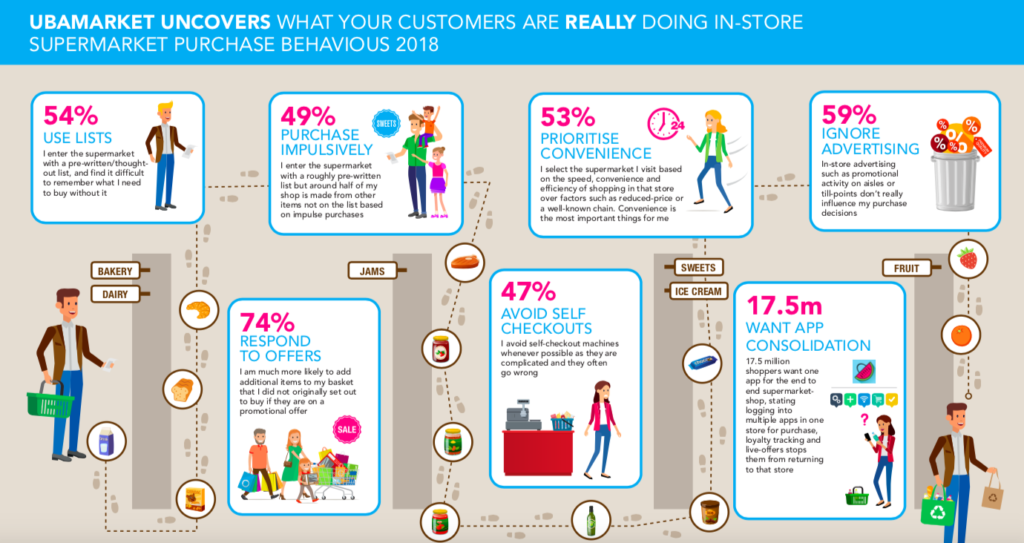 New research by Ubamarket, shows what we're really getting up to in the supermarket. Their research into behaviours whilst shopping for food, show that old habits are hard to shift, with methods like making a list still popular with the majority of shoppers.
Convenience is important to shoppers, 53% of people included in the study considered it a priority. Interestingly, self-checkout tills, which were intended for customer convenience, are now actively avoided by 47% of shoppers. An unexpected item in the bagging area equals a not-so-unexpected consumer outcome.
Overall, supermarkets could be doing more to make the food shop less tasking and more of a pleasure, making the modern shopping experience as hassle-free as possible. Ubamarket's revolutionary app acknowledges consumer preferences and has been designed to benefit both supermarket and shopper. A more efficient, stream-lined shopping experience not only supports supermarket brand loyalty, but also tackles the common issues faced by supermarket shoppers.
Ubamarket addresses all the concerns of the supermarket shopper and delivers an end-to-end solution. Scanning products as you go, shoppers can keep a track of their expenditure, with a real-time data feed enabling them to take advantage of the latest offers. The best bit? No need for laborious queuing at tills. A couple of clicks on your phone and your shopping is paid for. Points accrued, and on your way.